Hogan Kent Greene Property Zoning Change Request/Development Van Metre
Within the coming week homeowners on Mindful Court will receive by mail required notification from Van Metre Companies regarding the proposed development of the property adjacent to the eastern border of Kirkpatrick Farms Community.  Development of the Hogan Kent Greene Property is identified as a Transition Compact Neighborhood in the recently adopted 2019 Loudoun County General Plan. The proposed development is a compact, residential neighborhood to include an integrated mix of Single Family Detached Homes, Duplex Units, and Quadruplex Units.  The Applicant proposes to rezone the property from TR1LF and TR3LF to R-8 ADU.  Compact Transition Neighborhoods allow for greater residential density (home per acre).  The Hogan Kent Greene property is under contract with Loudoun South LLC.  Loudoun South LLC is working with Van Metre to get zoning approval.   Upon zoning approval, which requires Planning Commission approval, Board of Supervisors approval and site plan approval, Van Metre will purchase the property from Loudoun South LLC.  Three Compact Transition Neighborhoods are planned for our area.
Plan includes a total of 144 homes.  26 Single Family Units on 1/4 acre lots, 42 Duplex Units and19 Quadruplex ADU Units (Affordable Dwelling Units). 2 Units will be designated as UHNU (Unmet Housing Needs Units)
Homeowners that have questions or concerns are invited to attend the Planning Commission Public Hearing and the Board of Supervisors meeting. The timeline as of now for moving forward is:
– Planning Commission Public Hearing – September 22, 2020
– Board of Supervisors – November
– Van Metre Companies hopes to have approval by end of year. 1
more year for site plan/grading, maybe October 2021.
– Construction 2022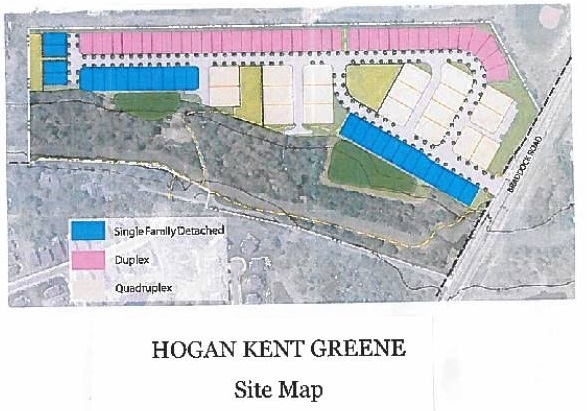 You can access documents associated with this rezoning on the Loudoun County website at: https://www.loudoun.gov/3362/LOLA.
Once the page comes up, click on the searchable list link, on the next page you can enter the application number: ZMAP-2019-0019. Click Select and this will bring up the ZMAP case and all the documents. You can scroll down to find the Design Guidelines dated Aug. 5, 2020, Proffers dated Aug. 14, 2020 and the ZMAP SPEX ZMOD PLAT dated Aug. 14, 2020.