Kirkpatrick Farms Residents: Looking for a space to host your next event? The KPF Clubroom is the perfect place for birthdays, baby showers, weddings or your office party.
Rental fee is $200 (non-refundable) for 5 hours of use and requires a $300 cash security deposit when key is picked up (refundable after event)
Days & Hours available for rental:
Fridays; 6:00 pm – 11:30 pm
Saturdays; 10:30 am – 11:30 pm
Sundays; 10:30 am – 11:00 pm
Capacity is 62 people / Tables & chairs included. Note: No use of the pool, weight room or groundsis permitted. For availability visit: www.kirkpatrickfarms.com/calendar-of-events. For more information call 703-722-2299.
(Signed contract needed upon booking)
What are the important things to remember when filling out the Architectural Improvement Application: (Following items to accompany Applications)?
1)  Architectural plans or scale drawings of the proposed project with elevations, dimensions, relationship to existing structures. (i.e.: Decks, Patio's, Pergolas, Additions)
2)  Materials: i.e.; Composite, Wood, Aluminum balusters, Stone, Mulch etc.  (Must include color photo of all materials. If staining wood, you must submit      a color sample of the stain. From manufactures brochure is acceptable.)
3)  A copy of your Property Plat (survey) showing location of project.
4)  Grading plans if changes to lot grad or drainage are proposed.
5)  Photos of your lot showing location of project and relationship to adjoining properties.
6) All Applications must include the signatures of the four (4) most affected neighbors.
7) Play equipment must have a picture, showing the color and style, of the equipment submitted along with the application.
(Italic must be included with all Applications.)
For more information, visit www.kirkpatraickfarms.com – "Documents" page.
Please see the attached color sample of the approved colors for the exterior of your home.
If you are not sure which color please contact your builder:
Ryan Homes 1-877 550-7926 or http://www.myryanhome.com
NV Homes 1-877-507-0057 or http://www.mynvhome.com
You can also visit the Loudoun County government website.  Select Real Estate Assessments from the middle of the page, put your address in and click on the sales history.
| | |
| --- | --- |
| MP-1 for Ryan Homes | MP-5 for NV Homes |
| | |
*All mailbox posts are to be stained: "Coffee" (Olympic brand)
**All mailboxes are to be painted: "Black"
***All numbers are to be adhered to  the mailbox itself.  Pictures are for the post style only.
Mainstreet Mailboxes & More, Inc. 571-379-8454 or 1-800-689-1265
(www.mainstreet-mailboxes.com)
Mailbox Style:  Ryan Homes: MP-1, color: Olympic Coffee
NV Homes: MP-5, "Black" box / Post – color: Olympic Coffee
Attention Homeowners!
Are you planning on selling your home? Please take the time to check the following:
*All of the improvements, modifications and sports equipment,etc. on the outside of your home, must have an Approved Architectural Application signed by the Architectural Committee.
Note: When an owner sells their home, Resale Documents must be ordered to be given to the purchasers. One of the things this includes is an inspection by the HOA to make sure everything on the outside of the home is in compliance, which includes but is not limited to:
*An inspection of the homes exterior: Clean siding / missing shutters / mailboxes / light fixtures etc,
*Paint & Stain: Fading / pealing / weathered,
*Landscaping: Neat appearance and
*All Exterior Modifications have approved Architectural Applications:
Decks / Patios / Fences / Storm & Screen Doors / Security Cameras /
Play Equipment / Paint color changes / Light Fixture changes etc.
– All require Applications!
Before you start the process of selling your home, make sure you check the outside for anything that may require maintenance or that you are not missing an Application for something that requires approval. These things will be noted in your Resale Documents and will require attention. If you are not sure on anything, please call the office at 703-722-2299 for verification.
Management
Annual Inspections are performed in an effort to keep Kirkpatrick Farms a visually appealing and well-maintenance community. The inspection consists of a visual inspection of the home and yard. Please note; a picture of the front and back of your home will be taken for reference only.  These pictures help identify any changes made to the property from year to year. Property Lot files are checked to confirm all improvements, modifications and sports equipment, etc.  have an approved Architectural Application by the Architectural Committee. Please review the list below for some of the items that will be reviewed upon inspection:
Home Exterior:
Missing Shutters
Loose siding or roof trim
Exterior light fixtures (broken/missing)
Mailboxes (faded, damaged/house numbers)
Garage doors
Windows (missing/torn screens)
Paint/Stain:
Doors, trim, shutters, railings (fading / pealing / weathered) (Note: Any change from original colors must have an Architectural Application submission prior to change.)
Mailbox (post and/or mailbox – faded)
Decks / Fences (uniform & consistent in appearance)
Landscaping:
Neat appearance of lawn & free of weeds
Landscape beds are free of weeds & dead plant material, fresh mulch (no red mulch)
Landscape boarders are in good condition
Properly stored out of view until ready to be used; bags of mulch, dirt, etc.
Exterior Modifications that require Architectural Applications:
Decks, Fences, Patios & Walkways, Additions (Changes to the exterior of your home/yard.)
Storm / Screen Door
New play equipment (trampolines, basketball goals, soccer goals)
Paint / Stain color changes
Addition of lattice / privacy screens
Changes to light fixtures: Style & color (Not similar to the original fixtures)
Removal of any living trees
Homeowners:
Homeowners are responsible for cleaning snow from all sidewalks adjacent to their home.
If your home is near a fire hydrant, please shovel a path to the hydrant in case of an emergency.
Please move vehicles off the street when possible in order for plows to safely and efficiently plow the street.
Snow Plowing:
Snow plowing does not begin until snow accumulation on streets reaches an excess of two (2) inches.
Townhomes streets are plowed by a private contractor.  Questions about plowing:

[email protected]

KPF Condos are plowed by a separate contractor. Questions email

[email protected]
Other Streets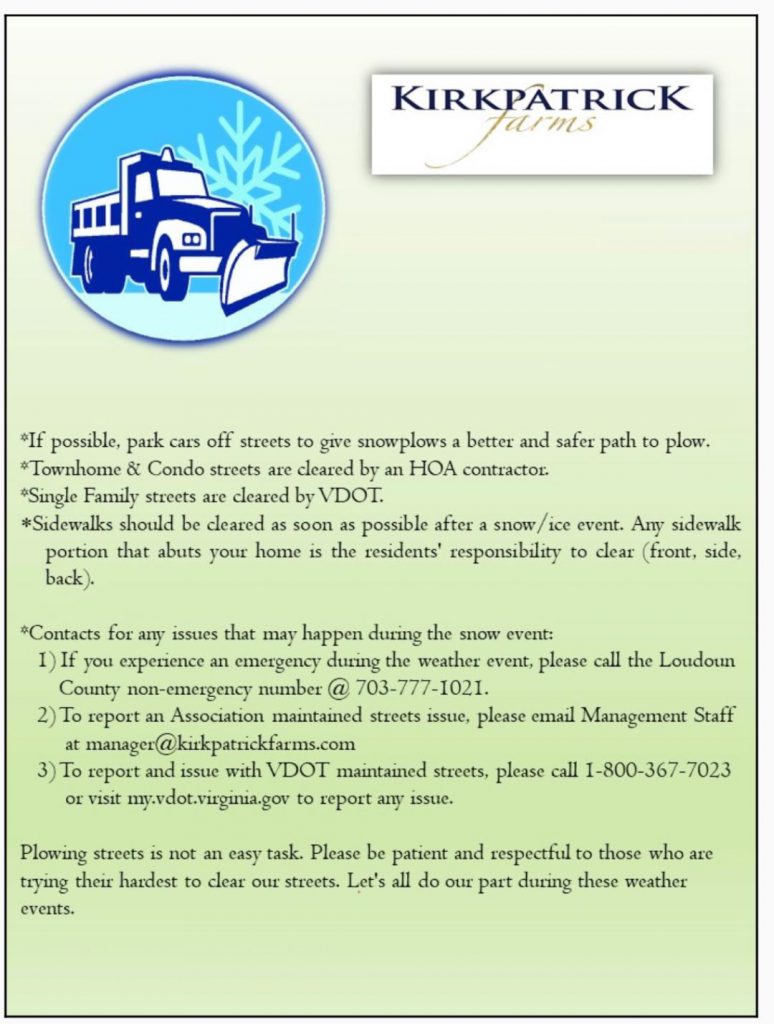 AGE RESTRICTION Persons under the age of 16 are prohibited from entering the facility!
There have been a number of youth, under the age of 16, that have had to be asked to leave the gym facility. There have also been a number of complaints from residents that under age children are also using the gym after the offices are closed.  Parents, please remind your children, under 16, they are not permitted to use the gym facility, period. While some children may know how to properly use the equipment in the gym, and do so, many others do not or just choose to not. This is dangerous and could lead to someone getting hurt.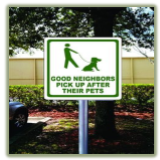 Many residents are walking their pets throughout the neighborhood. There is STILL nothing worse than having your child, yourself or even your pet taking a step and realizing what you have just stepped in.
Please, don't be one of those owners who does not clean up after their pet. Everyone deserves to be able to walk/play without the worry of what might be on the ground. This includes along the pathways around the neighborhood.
There are a number of pet waste stations located through out the community for residents convenience to place waste in while on a walk with your dog.
Loudoun County Sheriff's Department:
Emergencies dial 9-1-1
Non-Emergency: 703-777-1021
Fire Department: 9-1-1
Animal control: 703-777-0406
Poison Control: 1-800-222-1222
Mainstreet Mailboxes & More, Inc. 571-379-8454 or 1-800-689-1265
(www.mainstreet-mailboxes.com)
Mailbox Style:  Ryan Homes: MP-1, color: Olympic Coffee
NV Homes: MP-5, "Black" box / Post – color: Olympic Coffee
Cardinal Management Group: 703-569-5797 (Account information)
Cardinal Mgt. Group: www.cardinalmanagementgroup.com (Resale Docs)
Kirkpatrick Farms Clubhouse: 703-722-2299 / [email protected]
Kirkpatrick Farms Website: www.kirkpatrickfarms.com
Bates Trucking Trash Removal Service: 301-773-2069 (Customer Service)
website: https://www.batestrucking.com/
Bates Trucking Trash Removal Service (Condo's): 800-840-6454 (Customer Service)
The large pole streetlights are maintained by NOVEC and are not maintained by the Association. To report an out light, please follow the instructions below and report it through the NOVEC Website.
How to Report:
There are numbers on each pole which will need to be provided to report the outage. You can take a picture with your phone's camera or write the number down and go to the link below to complete the form online.
https://www.novec.com/Customer_Services/StreetLightRepair.cfm