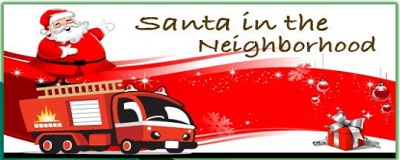 Saturday, December 14th.  Parade will start @ 6:45pm on Destiny Drive.
Santa's Parade Route:
6:45 – Destiny Drive @ Destiny Pond
6:50 – Progress Terrace & Destination Square
6:55 – Ultimate Drive & Boldness Court
7:00 – Supreme Drive @ Minnieland Academy
7:05 – Summerall Drive & Peaceful Terrace
7:10 – Summerall Drive at clubhouse
7:15 – Summerall Drive & Kinsale Place
7:20 – Kinsale Place & Kilkeen Way
Please bring a NEW gift for Loudoun County shelters or a non-perishable food item for Dulles Food Pantry.  Volunteers will be collecting items at each stop during the parade.  Desired items:  new toys for all ages, warm winter wear for all ages, clothes for all ages, toiletries, grocery gift cards for Seniors, gift cards for all ages.
Please be aware that these times are all approximate. Santa plans on spending 2 minutes at each stop to visit with all his friends. (Reminder: Lights & Sirens will be on during Santa's ride throughout the neighborhood. For everyone's safety; please do not approach Santa's Fire Truck and please don't run or chase after Santa. Stand on the sidewalk, stay safe and don't forget to wave!