Click on link below to Sign-up for a visit with Santa:
Pictures with Santa Sign-up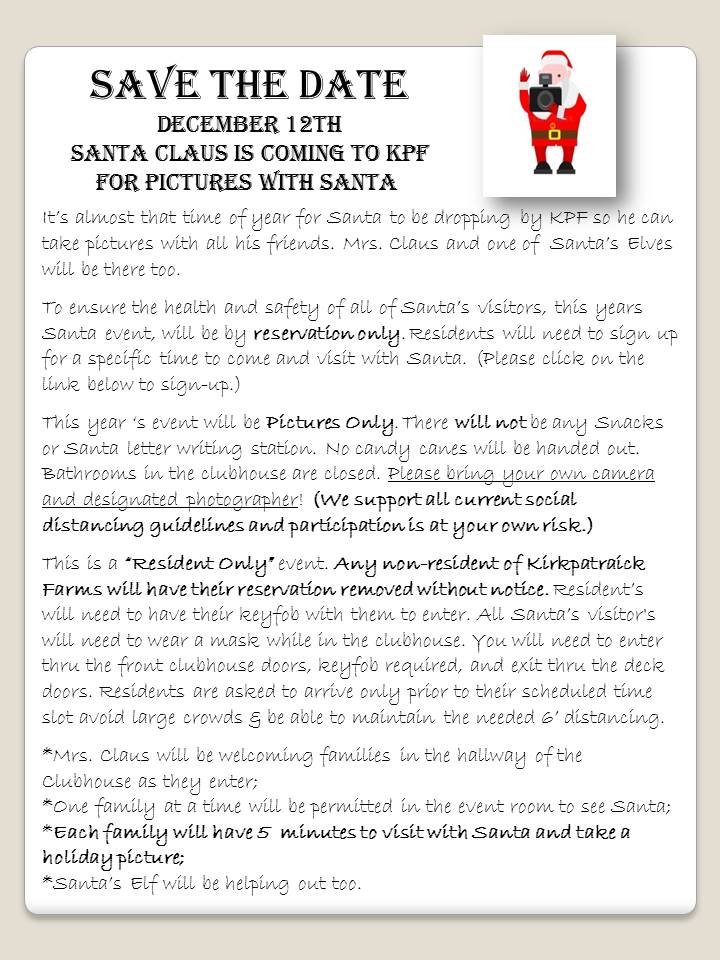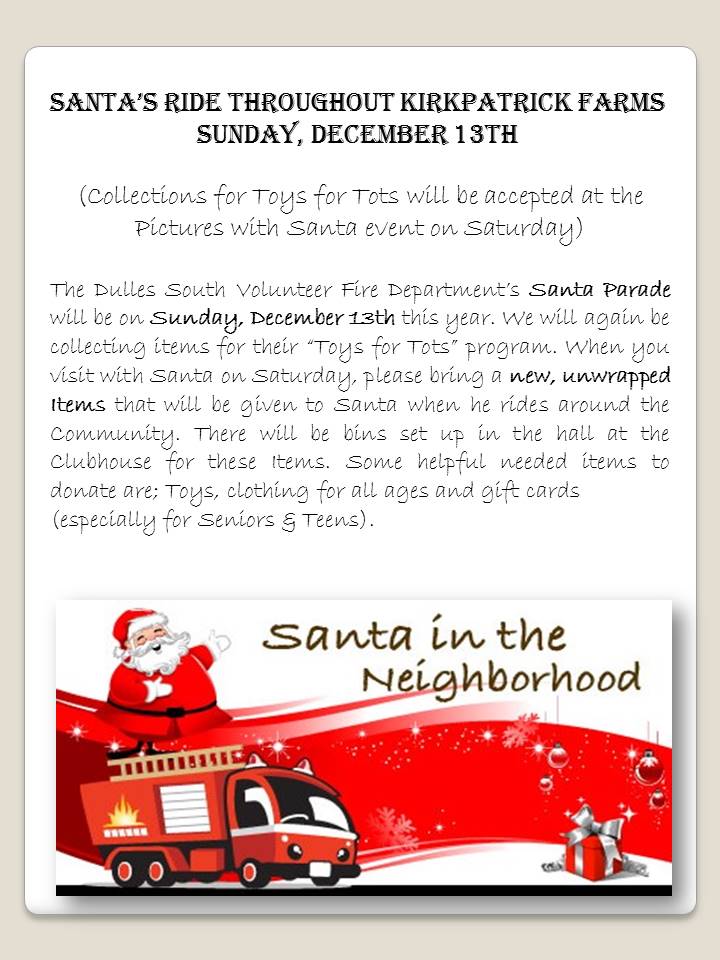 Arcola Volunteer Fire Department will be bringing holiday cheer through KPF when Santa rides through on the fire truck.
The parade will be on Sunday, December 13th this year around 7:05 pm
Arcola has asked all residents to social distance during the parade. Due to Covid, there will be no stops this year. This will be done to limit the need to gather at "Santa Stops."  The parade will travel slowly through the neighborhood along the same route as previous years like a traditional parade. See the attached picture for route but please note the red dots will not be stops this year. There will not be specified times for the parade location.
If you would like to donate food (non perishable), toys (new) , clothes (new) or gift cards (seniors and teens) they will need to be dropped off at the Clubhouse on Saturday between 2 and 5pm. There will be bins placed outside during our Santa event on the clubhouse deck. Please use the outdoor ramp to drop off in the bins on the deck. The KPF Social Committee will be dropping items off at their designated locations.
Parents:
*Be sure to keep everyone on the sidewalks during the parade.
*Please remind children not to race or chase after the parade vehicles.
*Sirens and lights will be on during this parade.
Thank You!
As always, this event is subject to last minute changes.
KPF Residents,
Please note the following new guidelines for this year's parade provided by the fire department.
Social Distancing Guidelines:
After carefully monitoring the updates from the state and county officials, We have the following guidelines that must be strictly adhered during parades.
*To serve the community and reduce the risk to our volunteers, all events that the Arcola Volunteer Fire Department attends must comply with all applicable local, state, and federal guidelines regarding social distancing. AVFD personnel are instructed to promptly depart from any event where proper guidelines are not being followed.
*Arcola members should not interact with the public except from the apparatus. Arcola members must remain compliant with all social distancing guidelines and wear a mask at all times.
*Members of the public should not approach our vehicles. In the event that we must stop or are stopping at the end of the parade to pick up food, the public should not approach our apparatus. At no point should an Arcola member permit or encourage a member of the public to approach or board our apparatus.
*If at any point the event becomes noncompliant with social distancing practices, Arcola personnel and apparatus should be instructed to immediately depart.
Please note that this year, we are counting on the community to guarantee that residents will adhere to social distancing guidelines as discussed above.