Please review the KPF Pool Guidelines for 2022 document. It can be found on the Documents page by selecting HOA Documents under My Account on the right. The document is located under the Guidelines and/or Pool heading.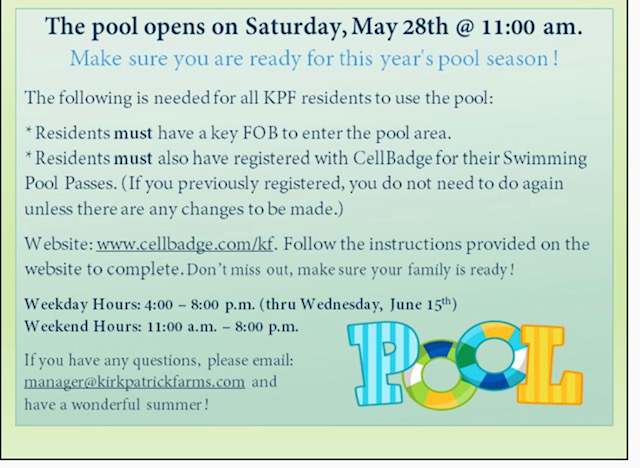 Inclement Weather
The pool closes for lighting and/or thunder for 45 minutes after the last occurrence.
Kirkpatrick Farms Krakens Swim Team Practice Schedule
Check the Kirkpatrick Farms Krakens website for the Krakens schedule, practice times, events and home swim meet times.
During the 2022 School Year (May 31 – June 15)
Tuesdays and Thursdays
5:15 pm – 6:00 pm – Ages 8 & Under
6:00 pm – 7:00 pm – Ages 9 & 10
7:00 pm – 8:00 pm – Ages 11 & 12
Wednesdays and Fridays
6:00 pm – 7:00 pm – Ages 13 & 14
7:00 pm – 8:00 pm – Ages 15 & Up
Summer (June 16 – July 22) * NO Practice on July 1 & 4
7:00 am – 7:45 am – Ages 8 & Under
8:00 am – 9:00 am – Ages 9 & 11
9:00 am – 10:00 am – Ages 12 & Up